Virtual Tour Orchid Garden Villa - 卓锦万代
Orchid Garden Villa - 卓锦万代 Orchid Garden Villa - 卓锦万代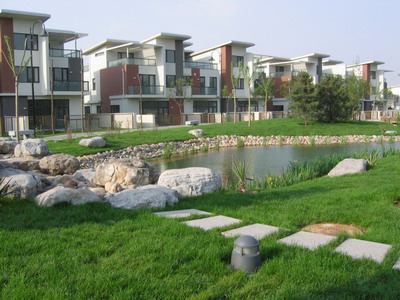 | | | |
| --- | --- | --- |
| Type(Br) | Area(sqm) | Rental(USD) |
| 4Br | 308-321sqm | USD4900-6100 |
| 4Br | 309-339sqm | USD5300-5600 |
| 4Br | 304-442sqm | USD6200-8500 |
Orchid Garden Villa - 卓锦万代 Orchid Garden Villa - 卓锦万代
Orchid Garden is named after The Vanda Miss Joaquim, Singapore's national flower. As the name implies, it is bound to provide a cozy, elegant and unique living space and environment to the residents. Located in Beijing Chaoyang District, near 5th ring road, and bounded by Laiguangying East Road, Jingshun Road and airport expressway, conveniently access to Jingshun Road, airport highway and expressway, only 1 kilometre away from airport expressway, 3 kilometres to the 5th ring road and within 15 minutes drive to the Yansha business district and eastern diplomatic streets. With site area of 126,000 sqm and GFA of 65,500 sqm, the 247-unit development will consist of 97 high-class villas, 150-unit townhouse and a 5,500-sqm clubhouse. The exclusive clubhouse complete with facilities like kindergarten, indoor swimming pool, gymnasium, and supermarket will be built to offer residents a rich and colorful lifestyle. Situated in the traditional villa projects area for expatriate community, there are full ranges of amenities like fishing club, crab island resort, country racetrack, golf course and sports club with bowling, billiards and squash facilities. The plenty of cultural and educational facilities in the vicinity like ISB, WAB, Montessori Kindergarten, Eaton International School and International Academy of Beijing will also bring a convenient, relaxing and comfortable life to the people.
==========================================
340sqm 4br detached, USD7000/month
Orchid Garden Villa - 卓锦万代 Orchid Garden Villa - 卓锦万代
Beijing Orchid Garden Architecture
Original Luxury Villa
Patio, Multi-dimensional and Terraced
Many villas in Orchid Garden have roof terraces, front and backyards ,side yards or central yards, and sunken gardens. The configuration of different yards forms a personalized multi-dimensional patio. This design maximizes the functions of architecture and maitains the dweller's privacy.
==========================================
340sqm 4br detached, $7500/month